Complete list of parts needed to produce the 8bit-Hub.
Item (number)
Identification
ATMega2560+ESP8266 (x1)
LCD 20×4 I2C (x1)
MicroSD module (x1)
PS2 socket module (x1)
Logic level converter (x1)
DB9 male connector (x4)
DB9 female connector (x1)
DB9 shell (x1)
10cm jump wires
(male/male x 35)
(male/female x 16)
(female/female x 2)
3D Printed Case
Self-tapping screws
M2.3×8 (x4) M2.0x7 (x2)
M1.7×5 (x5) M1.7×3 (x4)
(LYNX COM)
2m cable with 2.5 mm jack
(ORIC COM)
60cm flat ribbon cable
with 20 pins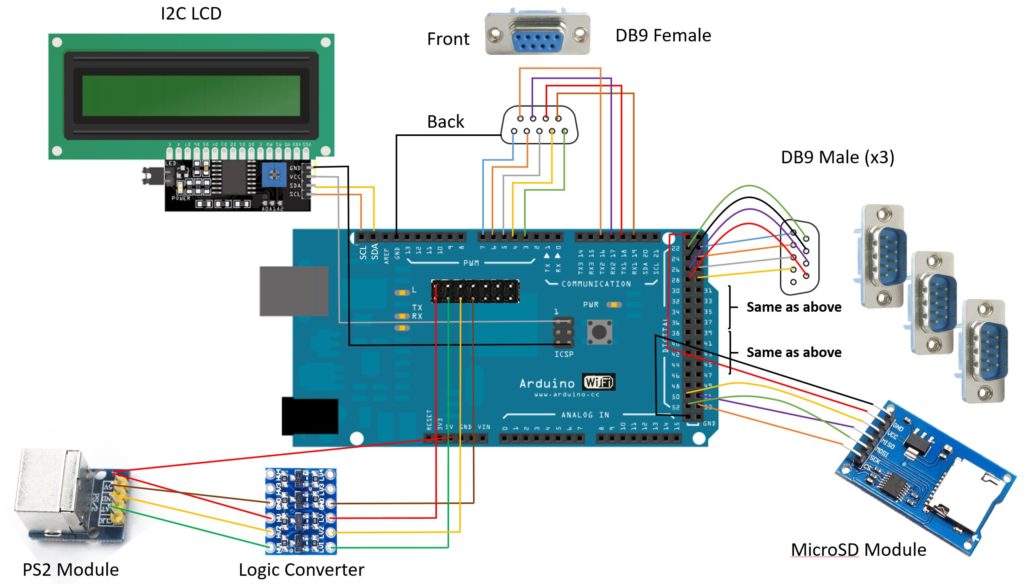 To produce a Hub takes 3-4 hours, the actual build steps are as follows:
Jump wires are soldered to the DB9 connectors and logic converter.
Logic converter is connected to PS2 socket module.
LCD screen is attached to 3D printed front cover.
Wires from all modules are connected to the main board.
Main board is mounted inside the 3d printed case.
Modules are attached to the side of case.
Finally, the communication cable is produced by cutting the COM cable and soldering to a male DB9 connector with protective shell.