Building the Demo Disks:
Double click the file builder.bat will show an interface for building 8bit-Unity projects including the necessary code and asset files for each platform. Use File > Load to import the project "demos/demo.builder" and press "Generate Build Scripts".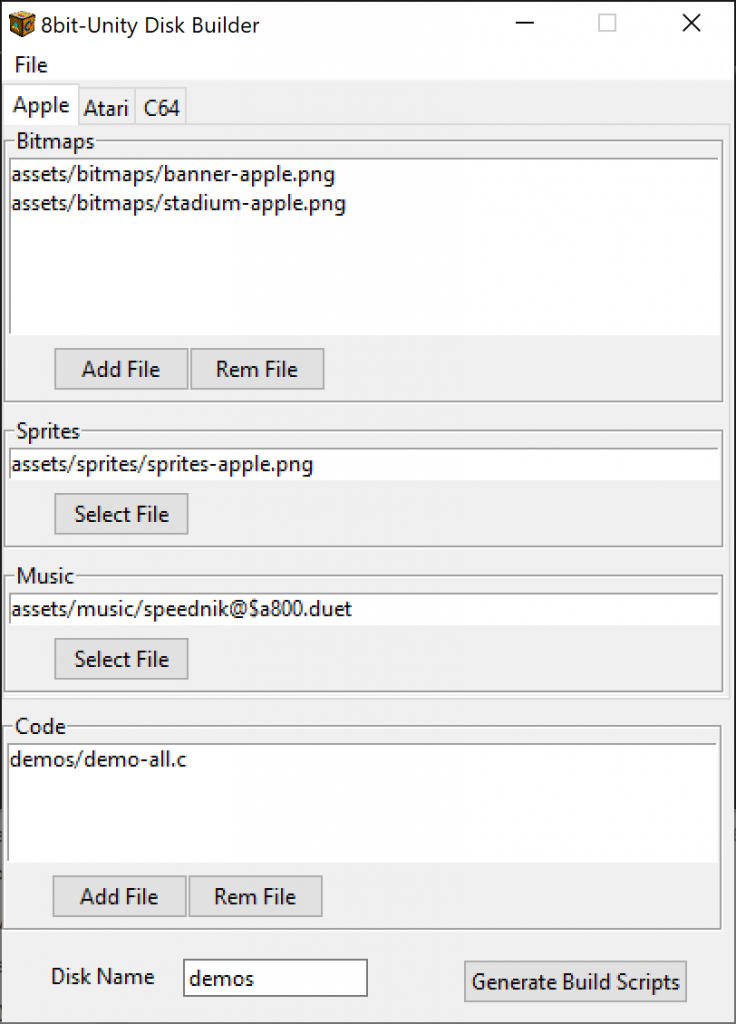 There are now 4 batch files in the root folder with names such as "demos-apple.bat". Run each script to build the relevant game disk which will be saved in the folder "[build]". You can then copy the disk to a floppy or load it in an emulator (AppleWin, Altirra or Vice).
Note: To run the network demo, refer to the section on emulator setup below to configure networking correctly.
---
Contents of the SDK:
/[build]: Empty folder, where temporary build files and compiled disks are generated
/[docs]: Very sparse documentation
/demos: Source files and assets used to build the demo disks
/grubs: Source files and assets of the "Grubs" tech demo.
/unity: Source files of game API (you probably not need to modify these files)
/utils: Emulators, GIMP, Piskel, Python 2.7, scripts and tools for converting assets and compiling disks.
---
Emulator Configuration:
In order to use networking with AppleWin and winVICE, follow these steps first:
Download and Install WinPCAP (ethernet driver): https://www.winpcap.org/install/bin/WinPcap_4_1_3.exe
In windows 10, go to "Control Panel" > "… Network Status…" > "Change Adapter Settings"
"Right-click" > "disable" every adaptors except your Ethernet Card.
If you have setup everything correctly, then "8bit Unity is easy!" will be printed in the UDP Demo.
— APPLEWIN —
The first time you run AppleWin, you will need to configure the emulator by clicking joystick and speaker icon:
Configuration > Model: Apple //e
Configuration > Ethernet Settings:

Ethernet > Uthernet
Select Interface: select your ethernet connection

Input > Joystick 1: Keyboard (cursors)
Sound > Device: Sound Card
Sound > Sound Cards: Mockingboards (in slots 4&5)
— ALTIRRA —
Altirra comes pre-configured with the dragoncart. These are the defaults settings:
"System" > "Hardware" > "600XL/800XL"
"System" > "Video" > "PAL"
"System" > "Video" > "Frame Blending"
"System" > "Devices":

Click "Add"
Select "Cartridge devices" > "DragonCart"
Set Bridging mode to "NAT"
Click "OK".
— VICE —
VICE comes pre-configured with the RR-Net. These are the defaults settings:
"Settings" > "C64 model settings"
Set C64 model to C64C PAL, PAL-G
"Settings" > "Cartridge/IO Settings" > "Ethernet settings…"

Set Ethernet to "RR Net"
Set Interface to the only device shown
Press "OK".